"Prior to working as a clown I worked as the childcare worker at the Parents Alone Resource Centre in Coolock, Dublin where I was responsible for all activities for the children, including a preschool facility, an after school play club and all the summer camp activities."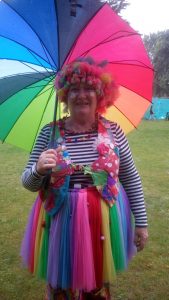 "I left childcare to follow my specific interest in clowning and performance and I have subsequently trained in a variety of ways; from full time training in performance (Liberties College Dublin) and a year spent working with Director Peter Sheridan on "The Best Medicine" Project, training in movement, voice, storytelling, dance and devising and performing in both ensemble and solo shows for children in hospitals.
I have also trained in Ireland and England where I attended intensive workshops with companies such as the Belfast Community Circus and the Moscow State Circus developing circus and clown skills.  Other workshops included training in mime, commedia dell 'arte, voice-work, singing and comedy.  In 2004 I qualified with a Masters in Drama Therapy from N.U.I Maynooth."
My way of working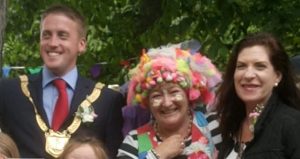 I am committed to a child centred approach to my work with children central to this philosophy is that the children are respected as individuals in a safe and engaging environment.
Having spent many years working with children in a variety of capacities, my experience and training have deepened my understanding of children's developmental and play abilities and how to optimize them, whereby I feel skilled to respond with sensitivity and flexibility to the needs that different personalities and groups may present.
I have full public liability insurance cover.
For further information on kids entertainment packages, you can contact Anna at 01 2353929, mobile 087 9133288 or email her at anna@kidsentertainment.ie